5 things to do in San Francisco with kids
This post may contain compensated links. For more information please read our disclaimer.
The wedding of a cousin I hadn't seen in ages was the perfect excuse we needed to escape the dreary November weather we were having in Ontario. So, off we went with the kids for an extended weekend in sunny California. It would be the kids' first trip to the bustling city of San Francisco and it would be D's first flight outside of Canada. There are so many places to visit and 5 things to do in San Francisco with Kids it was hard to narrow down. Below are the five places we visited finally chose!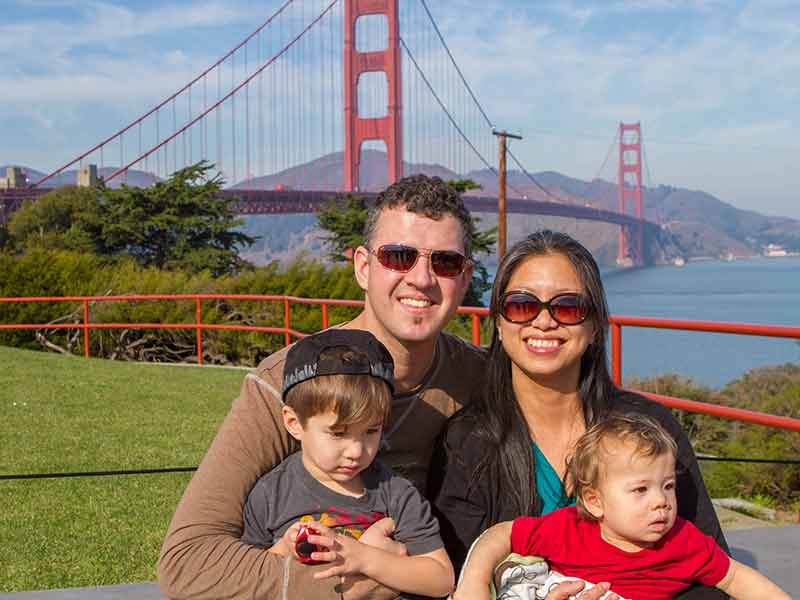 1. Golden Gate Bridge
A visit to this iconic landmark is a must. The Golden Gate Bridge was constructed in 1937 and at the time it was the world's longest and tallest suspension structure. It has six lanes for vehicles and a pedestrian walkway that affords amazing views. However, as we were with our kids, we opted to admire the bridge from the Vista Point where there are plenty of fields for them to run and play and we could show them spooky Alcatraz prison off in the distance.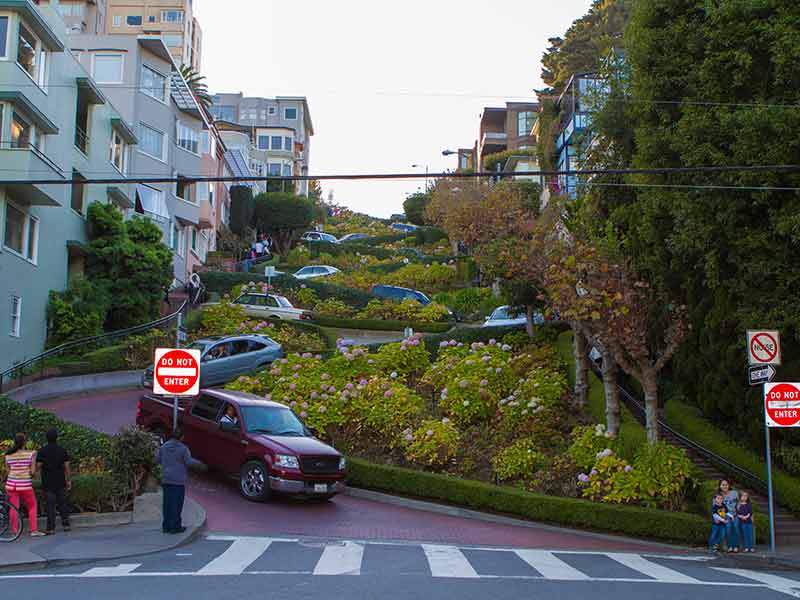 2. Cable car and Lombard Street
With a natural incline of 27°, the bank proved too much for vehicles to climb so eight curves were added to lessen the gradient of Lombard street. You can take the Powell and Hyde cable car and stop off at the top of the street. Since we had a rental car, we drove. From the top, Kevin drove down the "crookedest street in the world" at a blazing speed of 5 miles per hour while I opted to walk down one of the sets of paved steps found on either side of the street so I could take pictures. The street is very picturesque with colourful homes and flowering gardens that followed every curve. The kids enjoyed waving at me from the car as I beat them to the bottom of the street.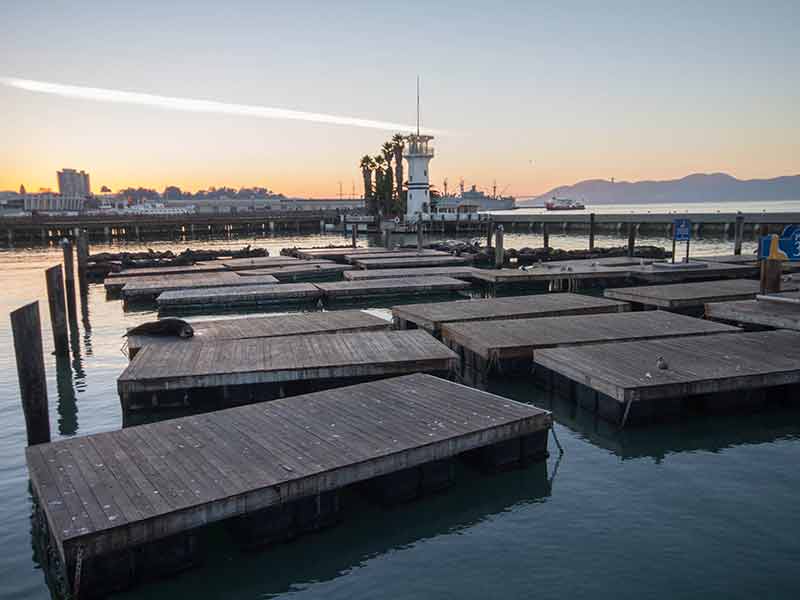 3. Fisherman's Wharf and Pier 39
Kid friendly Madame Tussaud's and Ripley's Believe it or Not Museum both call Jefferson Street at Fisherman's Wharf home and Italian seafood restaurants and crab stands line the streets. We stopped for the obligatory Dungeness crab sandwich (available in season from November to June) from one of the cheap outdoor crab pots as we wandered around watching the street performers and slowly made our way to Pier 39. The Pier has been the home of San Francisco's famous sea lions since 1990 when they arrived in huge numbers to the amazement of locals and tourists. The loud bark of these animals are sure to delight kids of all ages. Just be sure to plug your nose! Numbers do decrease during the early summer months as the sea lions are thought to migrate to the Channel Islands off of Southern California to mate. There have also been a few instances when all sea lions have disappeared only to reappear a few weeks later so it is good to check the live webcam before visiting. The Pier also has a two-level carousel and a roller coaster simulator ride which are a hit with kids.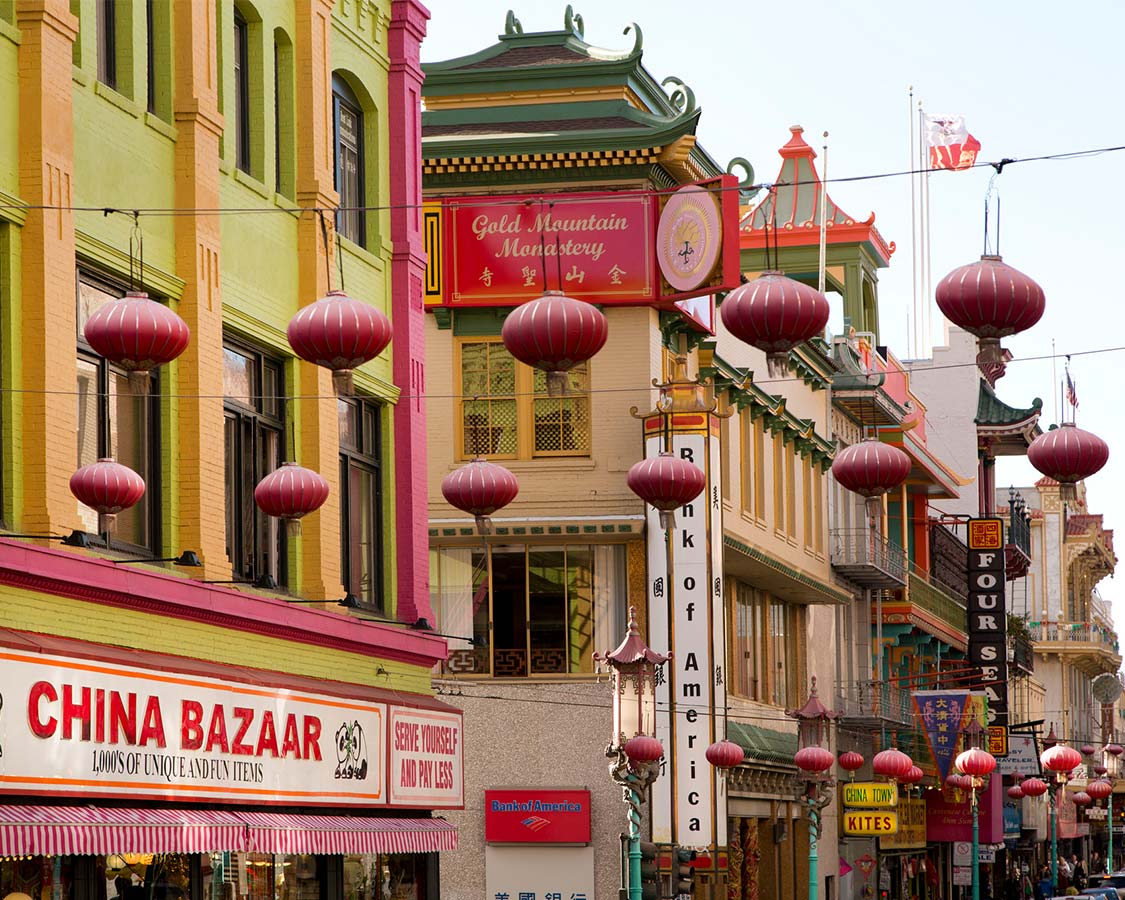 4. Chinatown
With the kids asking for Chinese food for dinner, we headed towards San Francisco's famous Chinatown, the largest in the world outside of China. The Dragon's Gate marked Chinatown's south entrance as we drove down Grant Avenue, the main thoroughfare through Chinatown, C kept pointing out the dragon lampposts that lined the streets and the buildings topped with pagoda-style roofs. Once we found a parking spot on one of the side streets we headed on foot to explore. On the side streets, you will find temples and stores selling fruits, vegetables, fish, and anything and everything you can possibly need. Kids will get a hoot out of many of the unique and interesting products being sold in the markets.
5. Ghirardelli Square
Ghirardelli Square is a beautiful site when the sun goes down.  It is lit up with thousands of twinkling lights that give it a magical feel. Although the former chocolate factory no longer makes chocolate bars at the site, gooey ice cream and delicious chocolate can be purchased at the square and the store is open until midnight on Fridays and Saturdays (until 11 pm other days of the week). No Wandering Wagars trip would be complete without a stop for ice cream! Although overpriced, the ice cream at Ghirardelli Square is decadent and after a long day of sightseeing it's hard to say no to the "kids".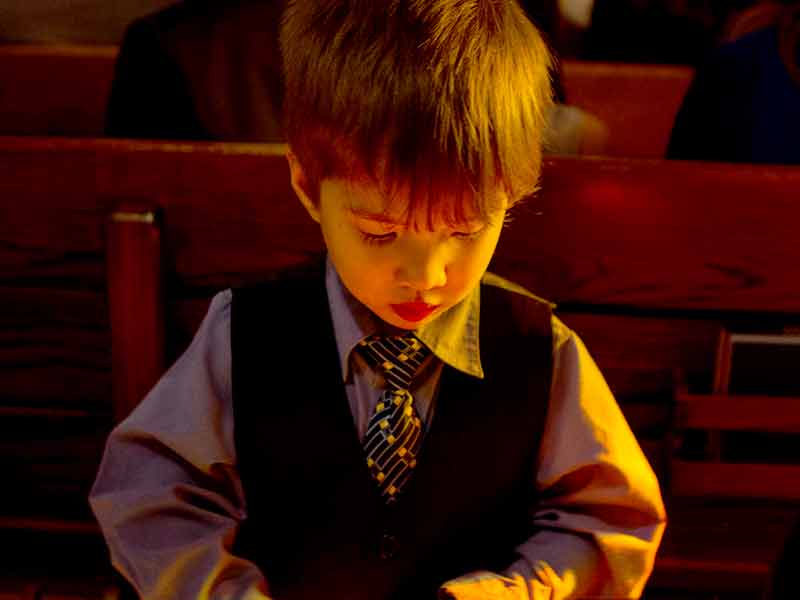 The next day would be spent catching up with family while getting ready for the big wedding. The children traded in their play clothes and running shoes for dapper suits. They cleaned up pretty nice if I do say so myself.
So whether you are visiting San Francisco for family, one of the regions incredible California music festivals, or just to explore the amazing things to do in San Francisco, you'll see that there are a lot of things to keep you busy.  Let us know your favorite San Francisco activities in the comments! You can also check out nearby Muir Woods National Monument. We spent a wonderful day exploring the towering red wood cedars.