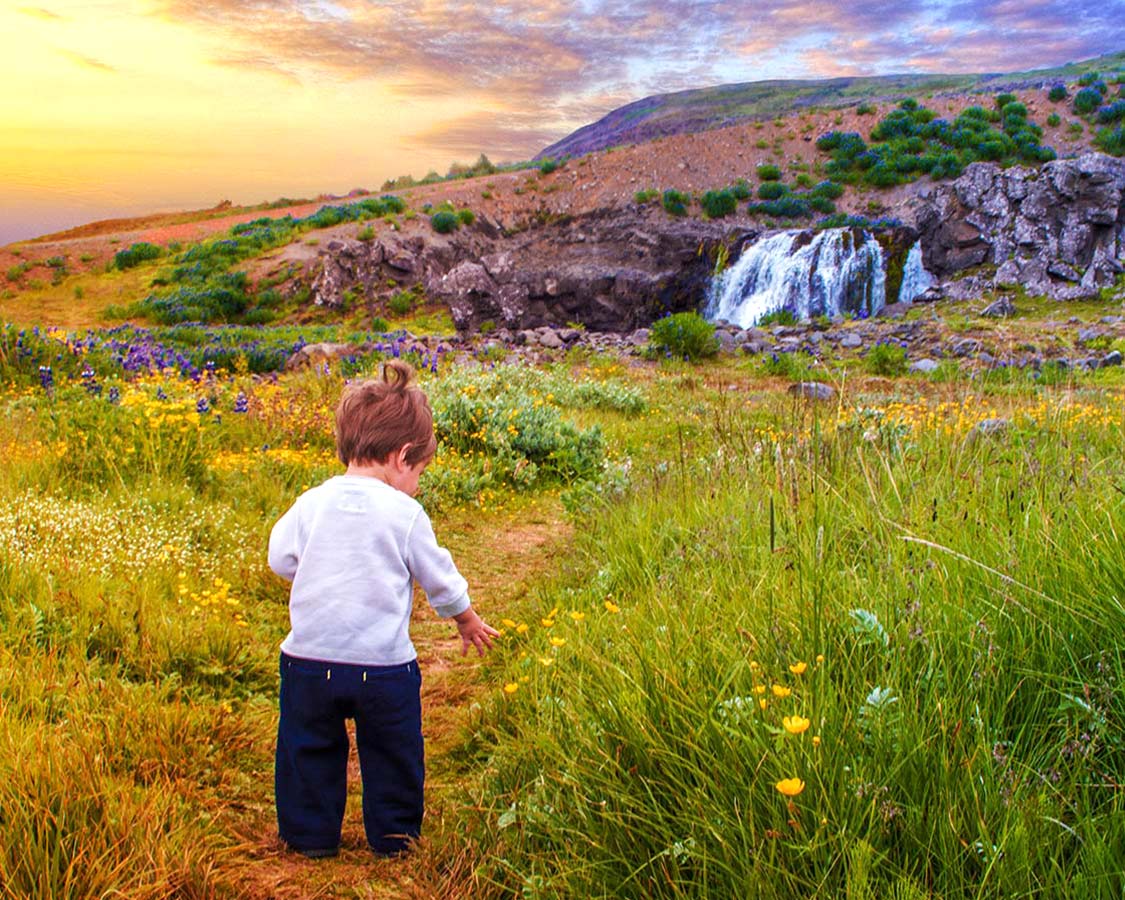 10 Ways To Make Visiting Iceland With Kids Unforgettable
Visiting Iceland with kids is often looked at as something unattainable. Iceland, the land of fire and ice. Where the sky seems to stretch on forever and the warmth of the people will fill your heart. But, experiencing Iceland for kids is not as challenging as many people think. In fact, there is loads of incredible experiences for families in Iceland. For us, visiting Iceland with kids became a dramatic road trip that opened our eyes to what makes nature the best playground for children. But, what is there to do in Iceland for kids? You may be surprised!
During our epic 14-day road trip through Iceland with kids, we managed to cover a LOT of ground. We saw all of the things to do near Reykjavik like the Golden Circle, and even ventured into some unique landscapes that most visitors to Iceland don't get the chance to see.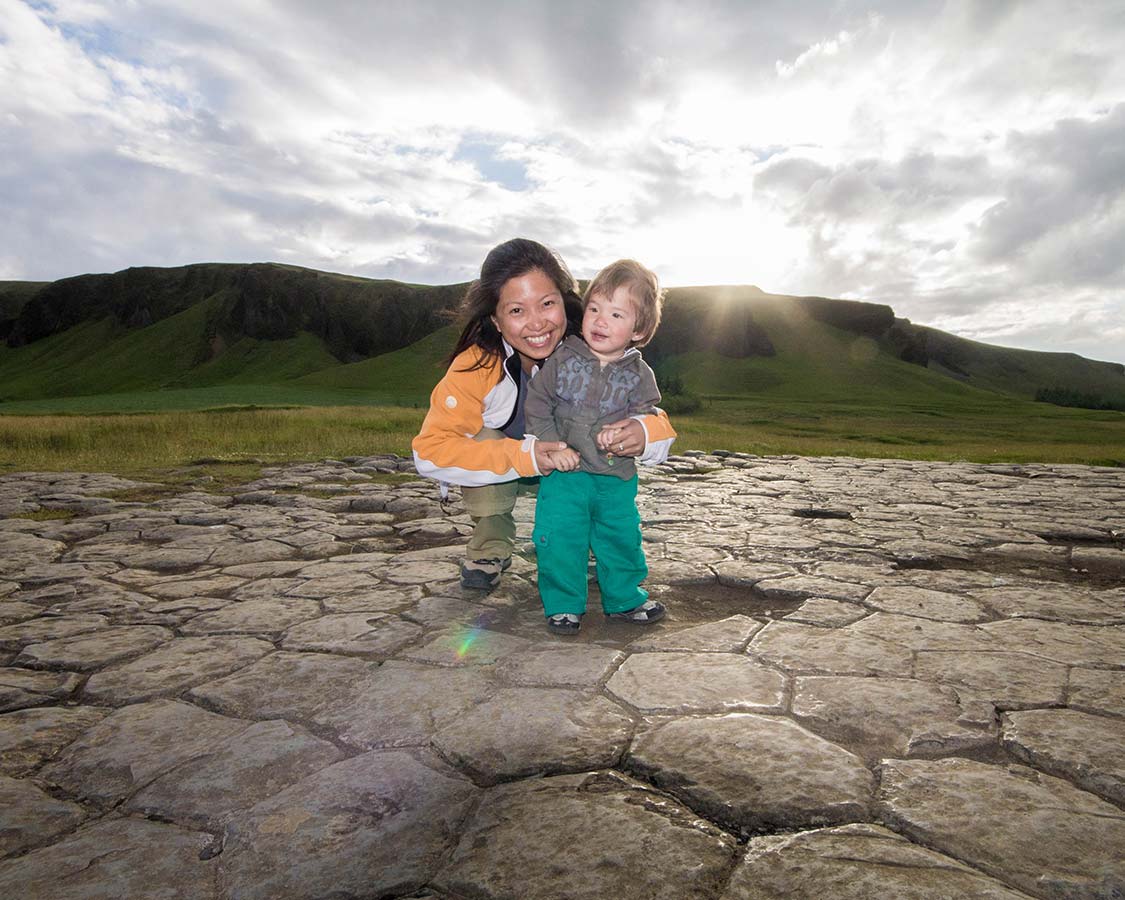 Why Should You Visit Iceland With Kids
Iceland is pure magic. It may seem like a cliche, but there is a good reason why so many who experience family travel to Iceland rave about the country. Iceland features endless stretches of untouched nature. Our family has traveled to many places around the world but there are few places that have had so much pure isolation as Iceland does. The advantage of this kind of environment in Iceland for kids is that it makes the country an enormous outdoor playground.
Iceland is like a living painting, with waterfalls, glaciers, and all the things that kids of every age find unforgettable. But add to this the rich Viking history of Iceland, and you have a recipe for an unforgettable childhood adventure. If you plan on taking a baby to Iceland, or even older children, prepare for mind-blowing scenery and incredible stories.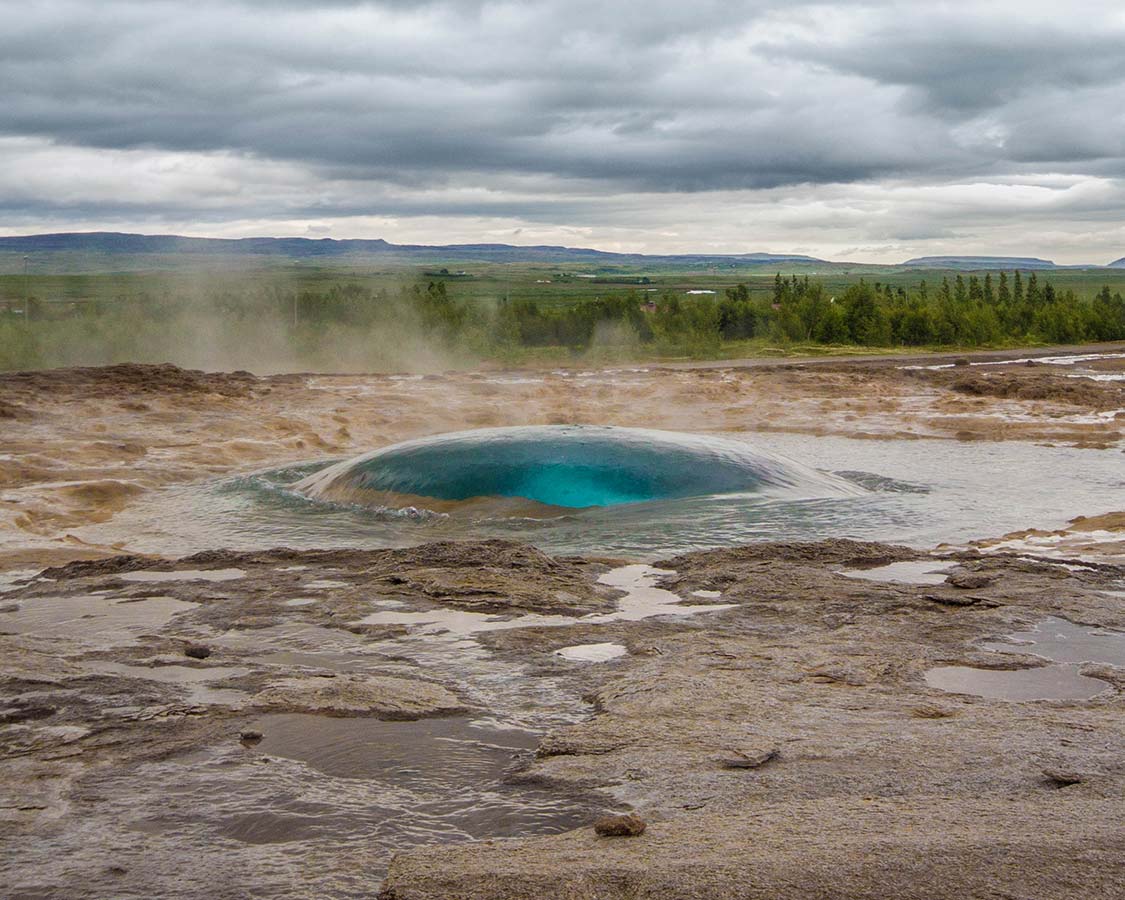 Our Favorite Things to Do in Iceland For Kids
Iceland tourism has exploded in recent years. Family tour Iceland itineraries are starting to catch on to the excitement as well. And as more and more people decide to visit Iceland with toddlers, new and exciting opportunities are popping up for family travel.
Most people traveling to Iceland arrive by plane in Keflavik, about 45-minutes outside of the capital of Reykjavik. From there, they catch a shuttle into town, sometimes stopping off at the famous Blue Lagoon along the way.
1. Learn About Viking History in Iceland
One of the most fascinating parts about visiting Iceland for families is learning about the rich Viking history of the country. Not only did these epic explorers discover the New World long before Columbus and the rest did, but they made Iceland what it is today!
Some of our favorite places for exploring viking history within Iceland with kids are: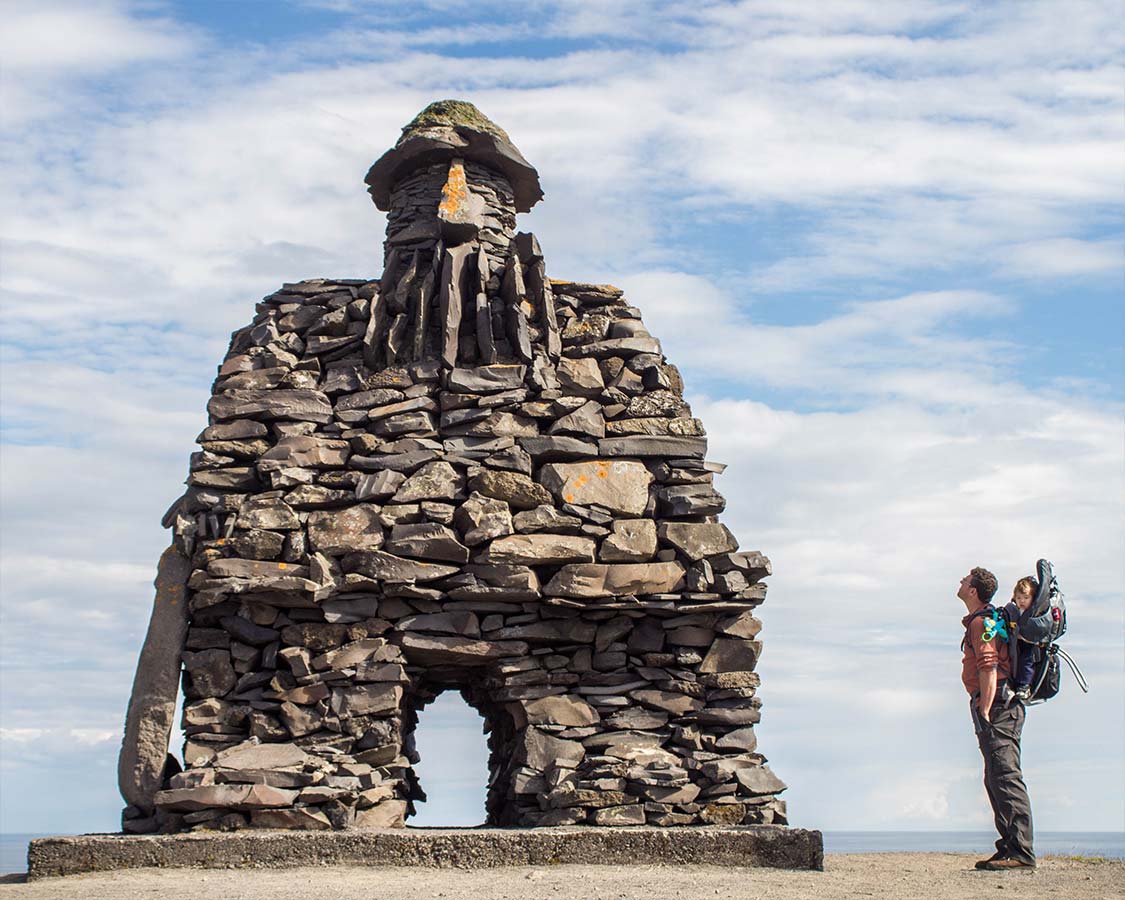 Taking in Sun Voyager sculpture in Reykjavik is the perfect place to start. is one of the most iconic images that comes to light when thinking about travel to Iceland. But it's also the perfect launching point for piquing kids' interest in Viking culture!
Meeting a Giant Viking on the Snaefellsnes Peninsula. Near the bird cliffs of the Snaeellsnes peninsula sits a massive rock depiction of Bardur Snaeellsas, a descendant of trolls who still exerts his magical influence on the region.
Visiting Incredible Viking Museums. There are many great kid-friendly museums in Iceland. The Saga museum is located within Reykjavik and is very popular. Just outside of town (about 40 mins) is Viking World, which has some amazing displays that will capture children's imagination.
But if you really want to delve into the Viking Saga's and history, we highly recommend The Settlement Centre in West Iceland. It's worth the journey if you're traveling the Ring Road.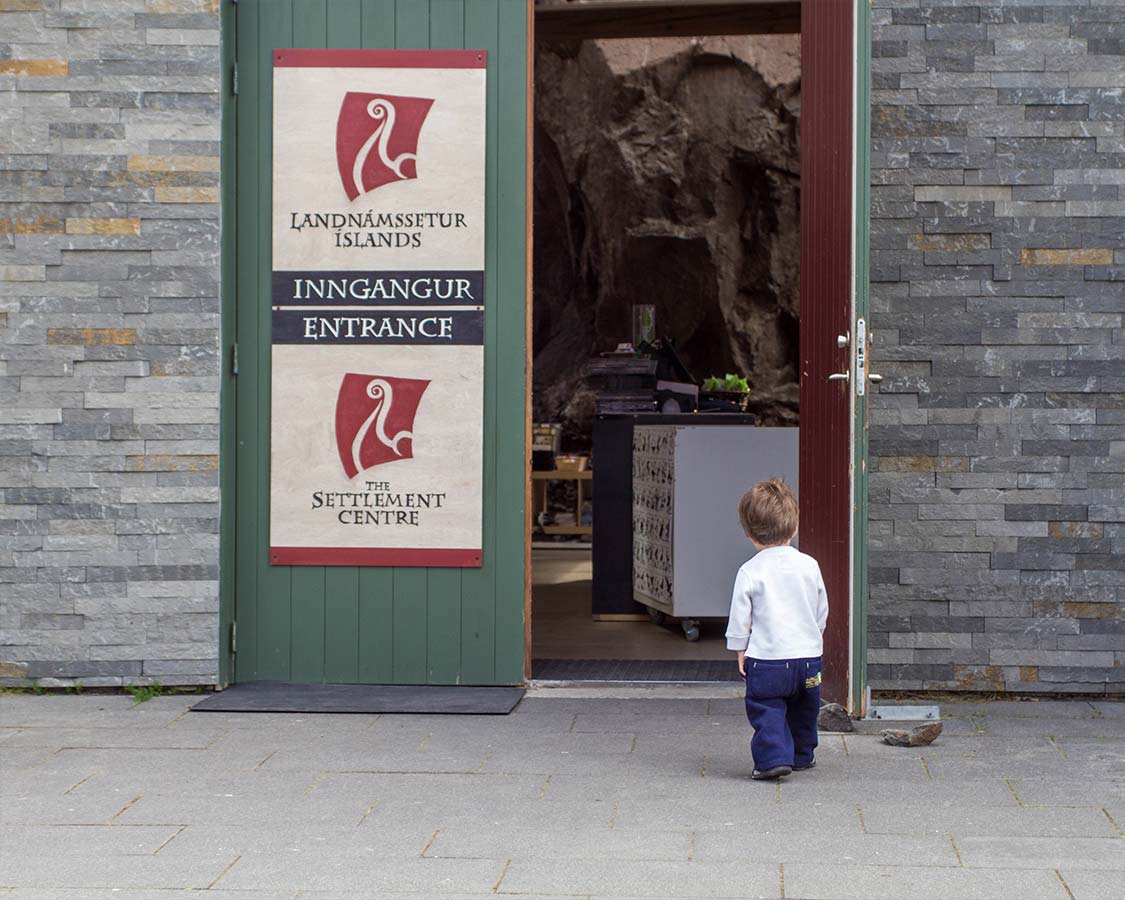 2. Take In The Most Beautiful Waterfalls in Iceland
Iceland is all about waterfalls! There are more of them than you can count. In fact, it seems that everywhere you travel in Iceland, there is water cascading down in the most beautiful way.
Not all of the waterfalls in Iceland are kid-friendly, but there are a lot of them that are. These are some of our favorite waterfalls in Iceland for children.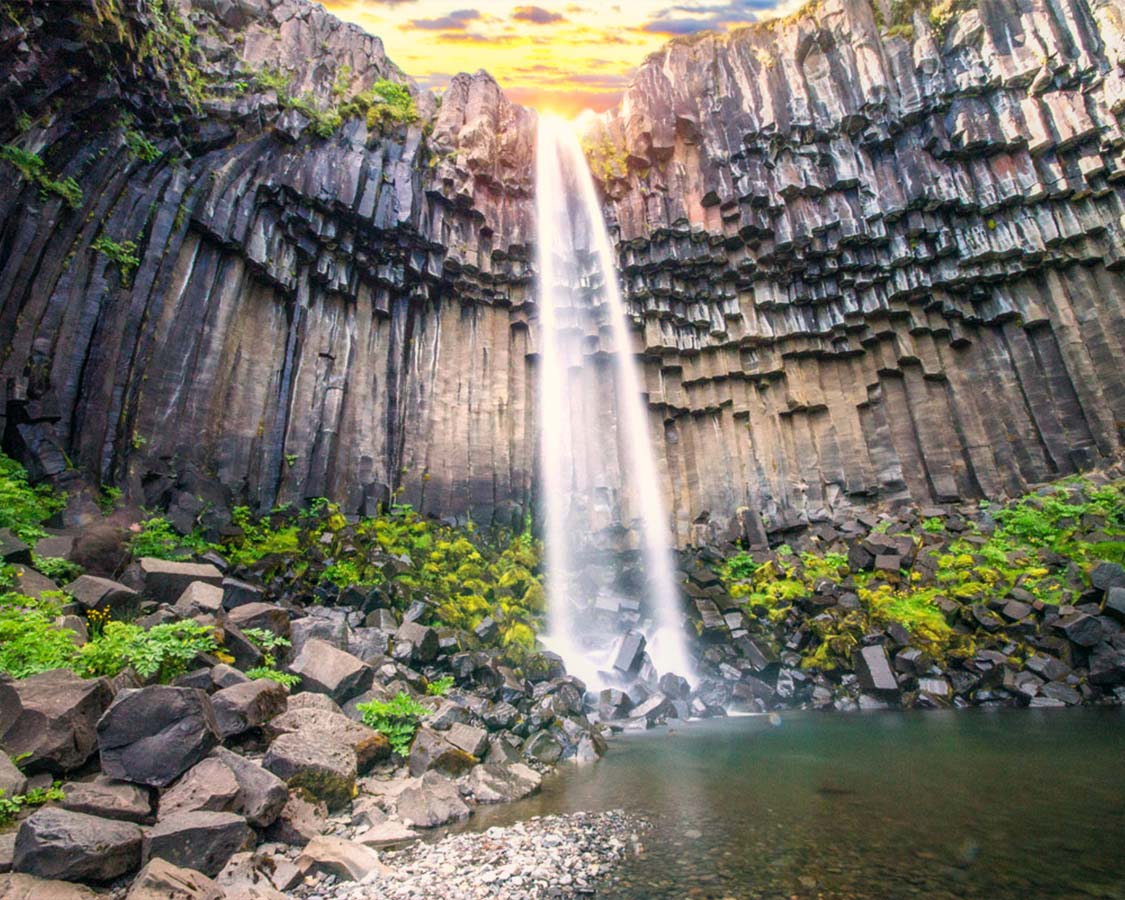 The Majestic Gullfoss on Icelands Golden Circle is one of the most famous waterfalls in Iceland. This iconic destination is a great introduction to the waterfalls of Iceland for kids.
Svartifoss Waterfall in Vatnajokull National Park is one of the most beautiful waterfalls in Iceland. It's located at the mid-way point of a 1.5 km (1 mile) hike.
The hike is an easy one through low lying forest. And the stream at the bottom of Svartifoss is perfect for splashing.
Kirkjufellsfoss waterfall in West Iceland is in one of the most beautiful scenes in the country. The waterfall itself is beautiful, but pretty basic by Icelandic standards, but the scenery around it is breathtaking!
Kids of all ages will love running through the fields of summer flowers with Kirkjufell Mountain in the background.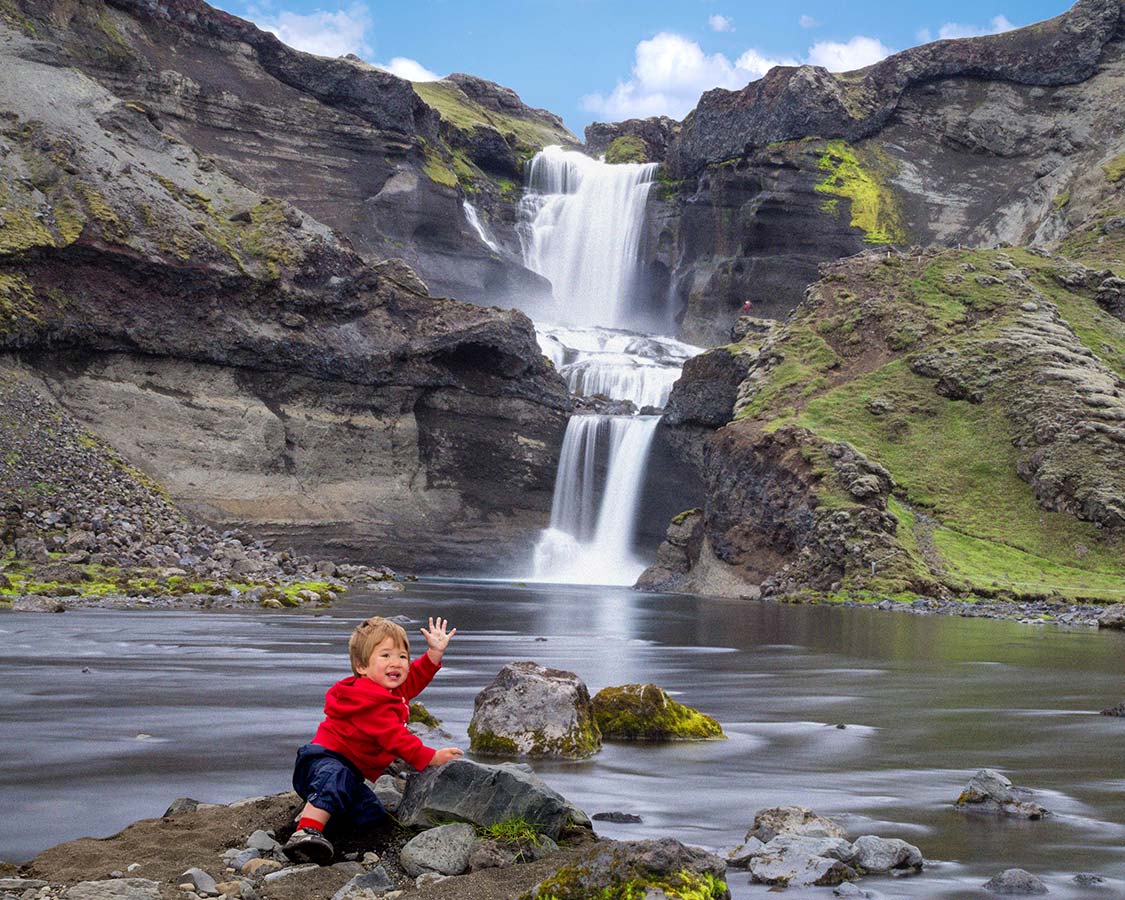 3. Swim in the Geothermal Pools
Iceland has countless glaciers that pour melt-water down through the volcanic soil and rock. The geothermal landscape makes for a natural filtration and heating system. So there are an endless number of geothermal pools waiting to explore.
For family-friendly fun, nothing beats splashing around in naturally heated pools. It seems no matter where you travel with kids in Iceland, a pool is not far away. Reykjavik alone has over 18 of these geothermal pools! Here are some of our favorite family-friendly pools in Iceland: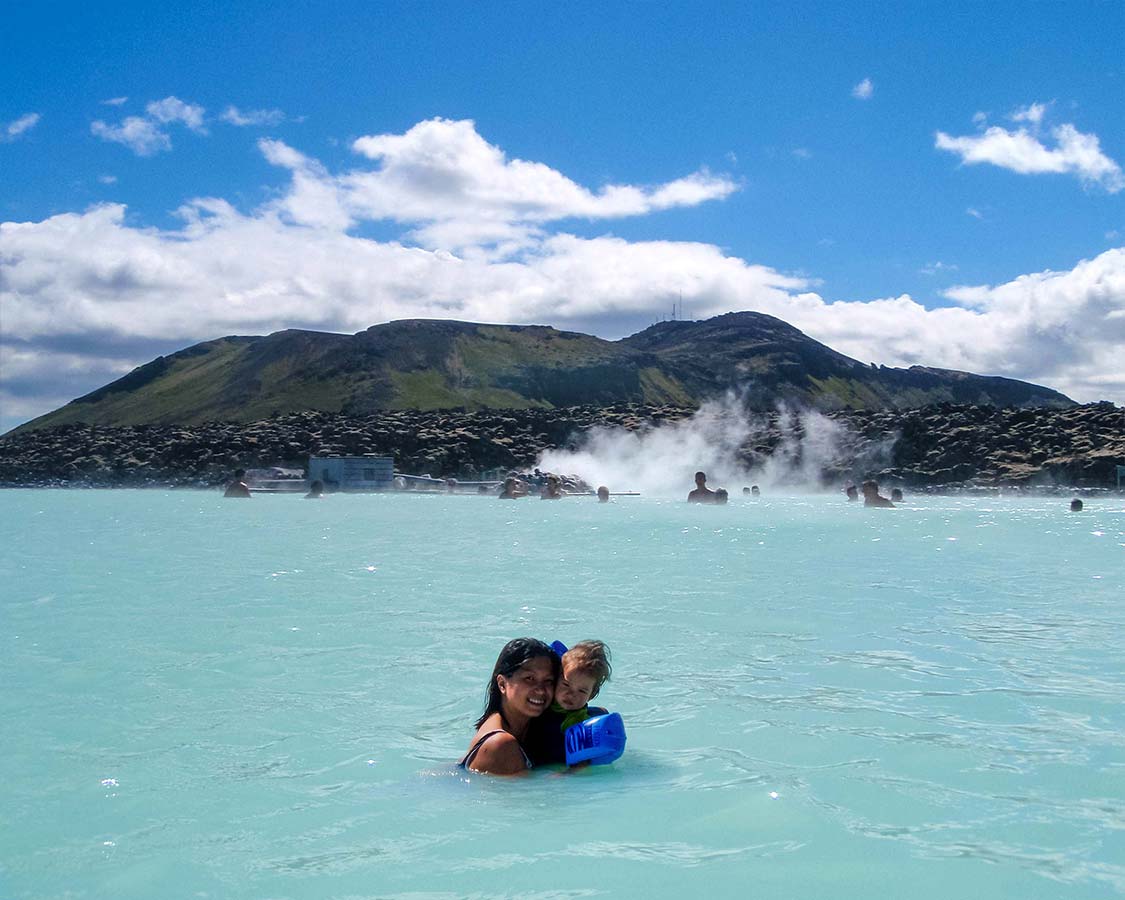 Float In Elegance in the Blue Lagoon between Reykjavik and Keflavik. Yes, the Blue Lagoon is the most famous geothermal pools in Iceland.
That fame is often debated, but there's no denying that it's a beautiful way to begin or end a family vacation to Iceland. Unfortunately, children under 2 are not allowed at the Blue Lagoon.
Enjoy family fun at Laugardalslaug pool in Reykavik. combines the pools with a sports hall, botanical garden, a zoo, a sculpture museum, a large gym (World Class), a spa and a skating rink! If you are traveling in Iceland with toddlers, it doesn't get much better than this.
Swim with a view at the Myvatn Nature Bath. The Myvatn Nature baths are one of our favorite spots to bring kids in Iceland.
The Myvatn Nature Baths are open to all ages and have some of the most beautiful views of all the geothermal pools.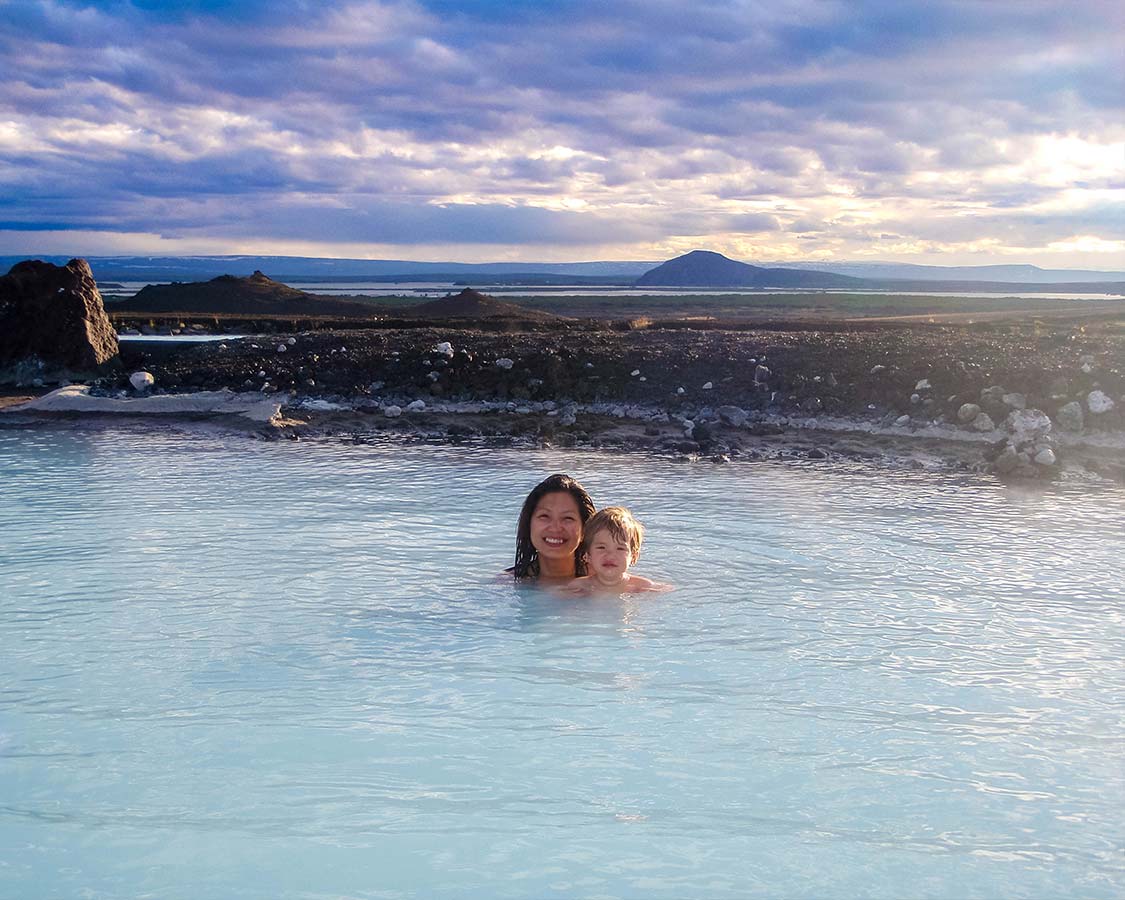 4. Go Whale Watching
There are few things more cool for both kids and adults than watching a creature the size of a bus rocket out of the water and come crashing down just a few feet away from your boat. And there are few places in the world that are better than Iceland for whale watching.
There are a few places in Iceland where whale watching is at it's best. These are the ones that we recommend: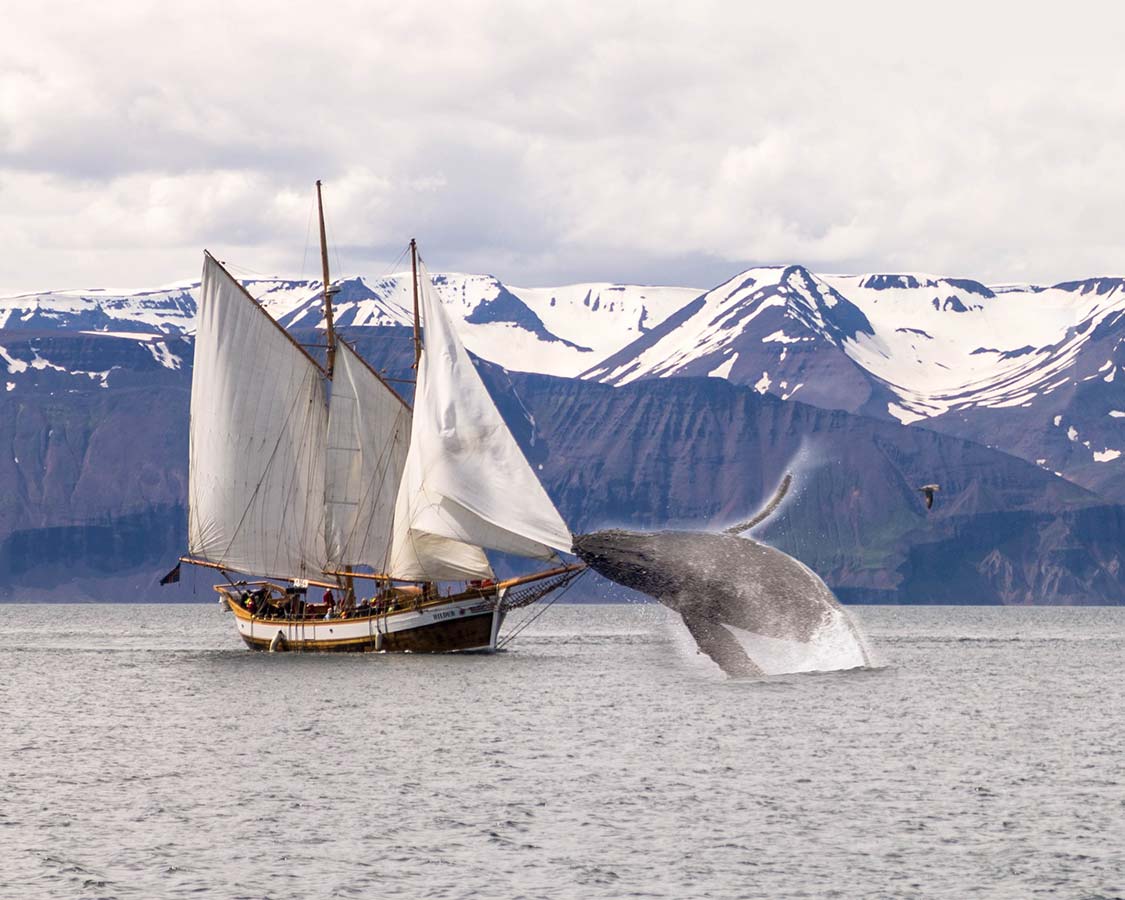 Whale Watching in Reykjavik is an excellent options for those on a short visit to Iceland with kids. The convenience of being in the main city with easy access to the port is key to those who aren't doing full tour of the country. Most whale watching tours in Iceland leave from the Old Harbour and last about 3 hours.
Whale Watching in the Calm Waters of Akureyri is popular for families due to the calm water of Iceland's longest fjord. Akureyri is one of Iceland's northernmost cities, and it is the second largest city in the country. Whale watching tours in Akureyri take off from the floating pier near the Hof Cultural and Concert hall.
Whale Watching from a Schooner in Husavik with North Sailing was one of our favorite experiences in Iceland. There was something magical about combining the majesty of tall ships with the elegance of whales in the Northern Sea. As an added bonus, Husavik is one of the best places to see the magnificent Blue Whale during the summer months.
Husavik is also home to the Iceland whale museum which has a lot to offer for those experiencing Iceland for kids, or adults traveling the country.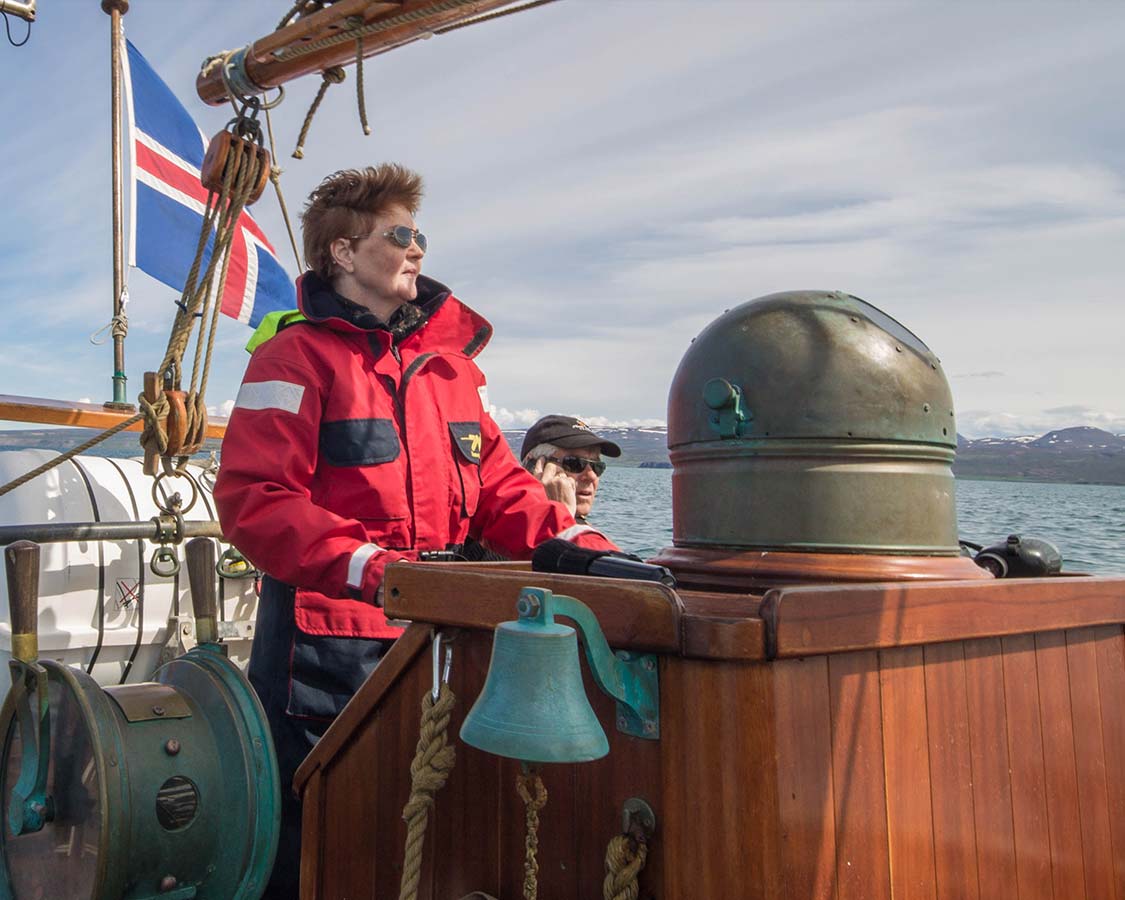 5. Explore Some of Iceland's Other Wildlife
Kids aren't the only wild animals that love to explore Iceland, there are lots of amazing creatures that call Iceland their home. This country's unique position in the North Atlantic makes it a haven for migratory birds. But it's not just feathered friends that can be found around Iceland, there are a few animals that we love to visit when we are in this beautiful country. Here are some of our top wildlife experiences for families in Iceland.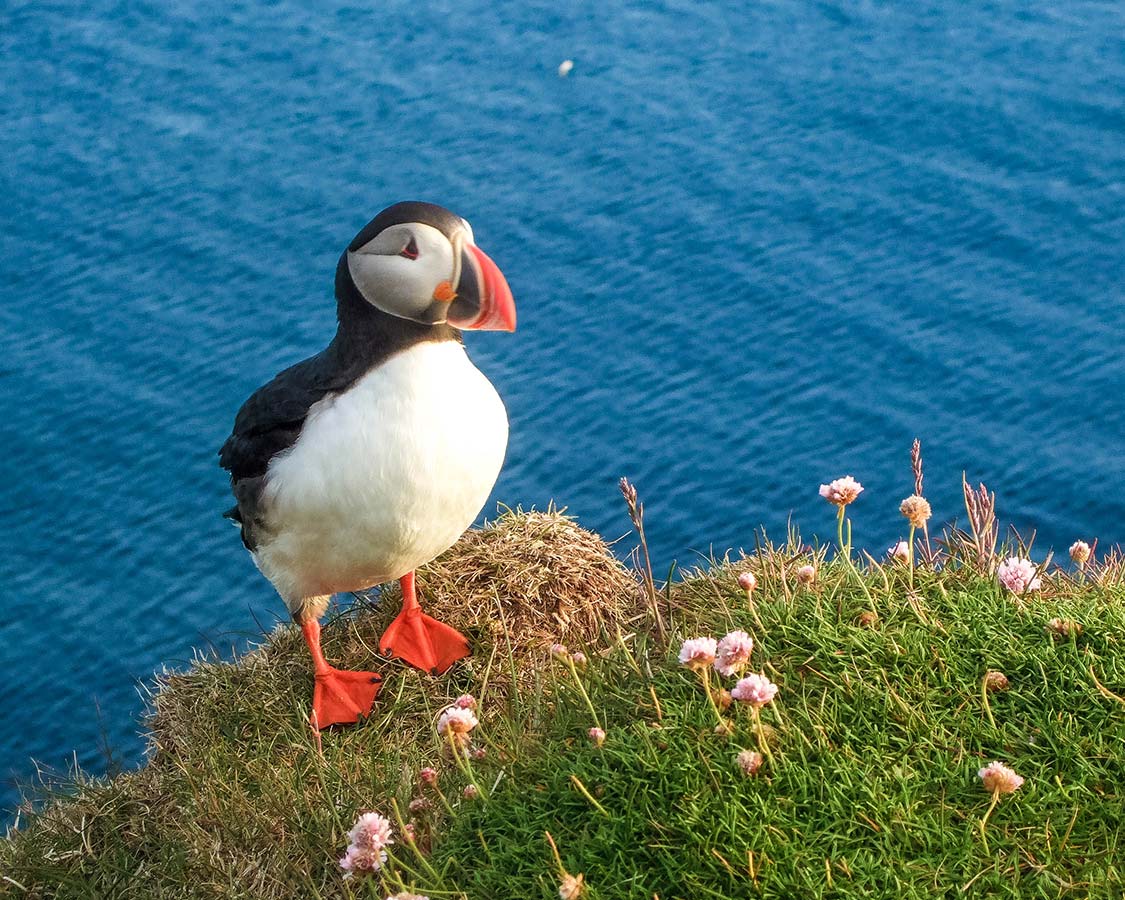 Run along herds of Reindeer in East Iceland. Reindeer are the largest animal that lives in Iceland (except for the occasional Polar Bear that ends up here by accident). Reindeer are most easily seen in the winter months when they head to the lowlands to feed. During the summer, you are more likely to see them in the highlands away from the crowds.
Watch colorful puffins dance in the air and in the water. ferry to the Westfjord. During the summer months, Iceland is home to some of the largest concentrations of puffins in the world. The best places to see them are on the s (make sure to book the slow ferry). Or if you want to see them up-close, head to Latrabjarg in the Westfjords to watch them on the epic Latrabjarg bird cliffs.
Take a ride on elegant Icelandic horses. OK, you got me, while not technically "wildlife", Icelandic horses are still one of the most treasured animals in the country. They are known for their small size and fortitude. Kids will love horseback riding experiences around Iceland on these beautiful animals.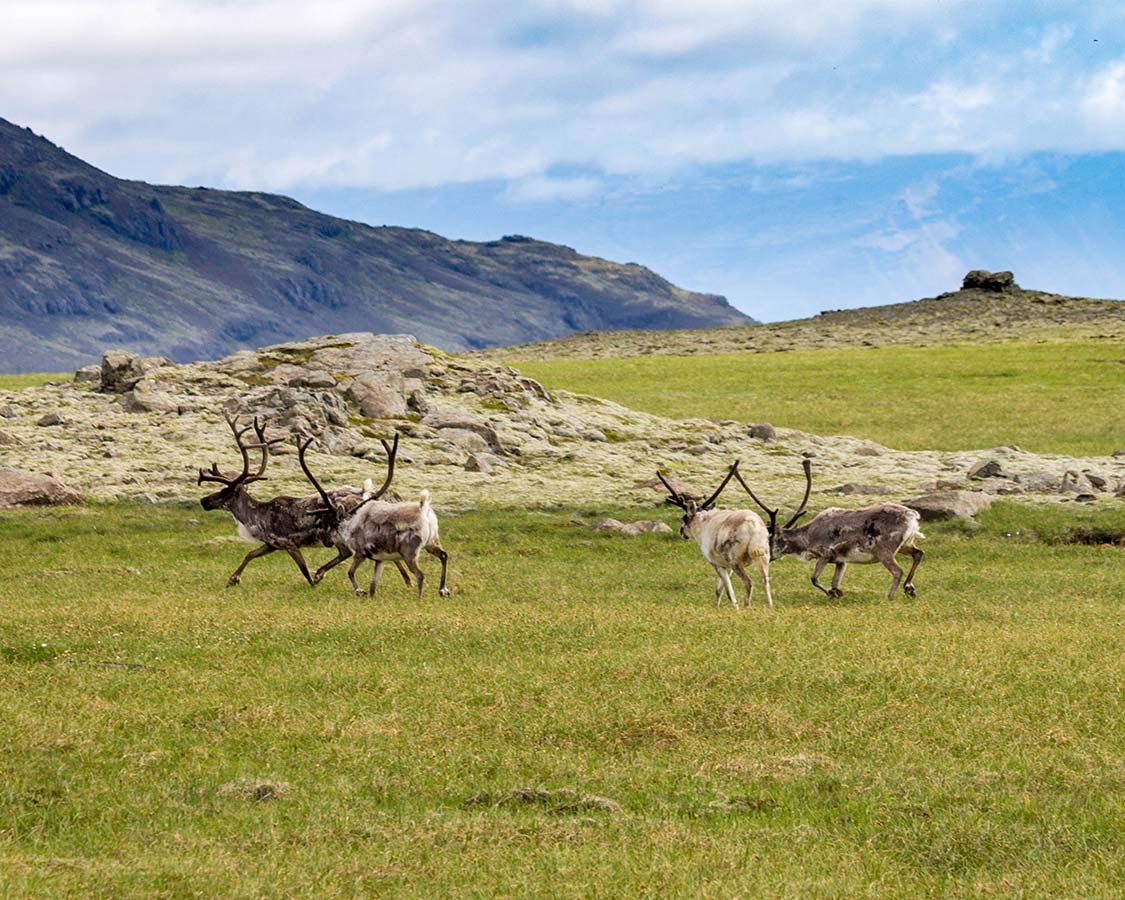 6. Go Hiking In Iceland For Some Of the Most Epic Views
Views. Iceland's got them. In fact, when you're hiking in Iceland with children, it seems like Iceland has ALL the views. In all the countries our family has traveled to, I can't think of one country that has matched Iceland for sheer beauty. Many have come close. But none have been able to top Iceland for sheer majesty.
Hiking in Iceland is just awesome. Hiking with kids in Iceland is even better! Sure you travel at a slower pace, but that just means you get to enjoy the views a little more. You can check here for all of our favorite family friendly hikes in Iceland.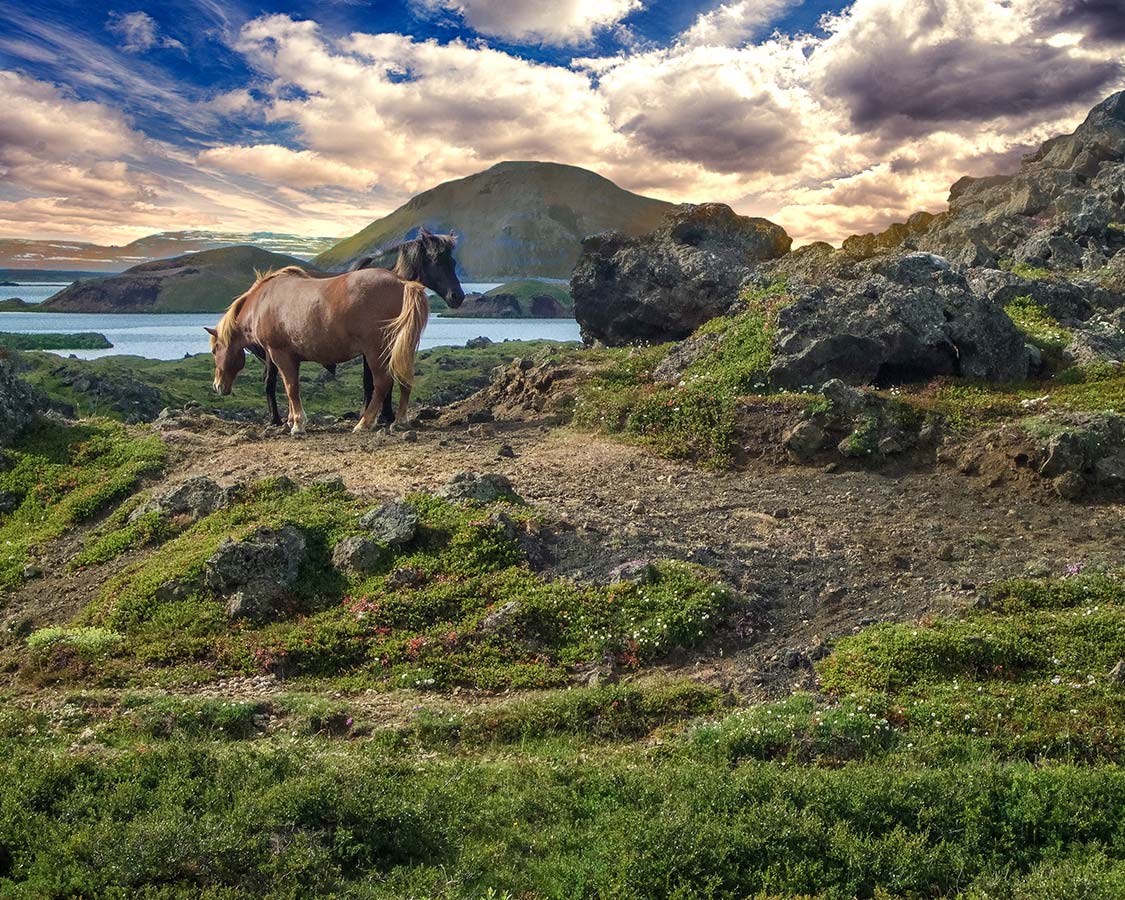 Visit the Giant at the Arnarpstapi Bird Cliffs. Yes, this is the same trip we mentioned earlier when talking about Viking history in Iceland. Not only can you visit the Bardur of Snaefellsnes here, but you can hike between the towns of Arnarpstapi and Hellnar for some stunning views.
The cliffs are home to thousands of nesting birds that make their homes on the coastal cliffs and sea caves. As an added bonus, stop in at the Fjoruhusid cafe in Hellnar for a treat before making your way back to Arnapstapi.
Explore the stunning landscape around Lake Myvatn. The hiking trails surrounding Lake Myvatn are gorgeous. The region is lush and green during the summer months. The well-maintained paths make the hike very family friendly. Along with volcanic hills and craters, you might also see grazing Icelandic horses along the waters edge.
Take in one of the most beautiful canyons in the world at Fjadrargljufur. This narrow canyon stretches for 2 km between steep 100 m cliffs. The canyon floor can be trekked but requires some wading through shallow water and along some small waterfalls. There is also a path along the canyon rim for those who want to keep their feet dry. We opted to do a little of each, and the views from both are simply amazing.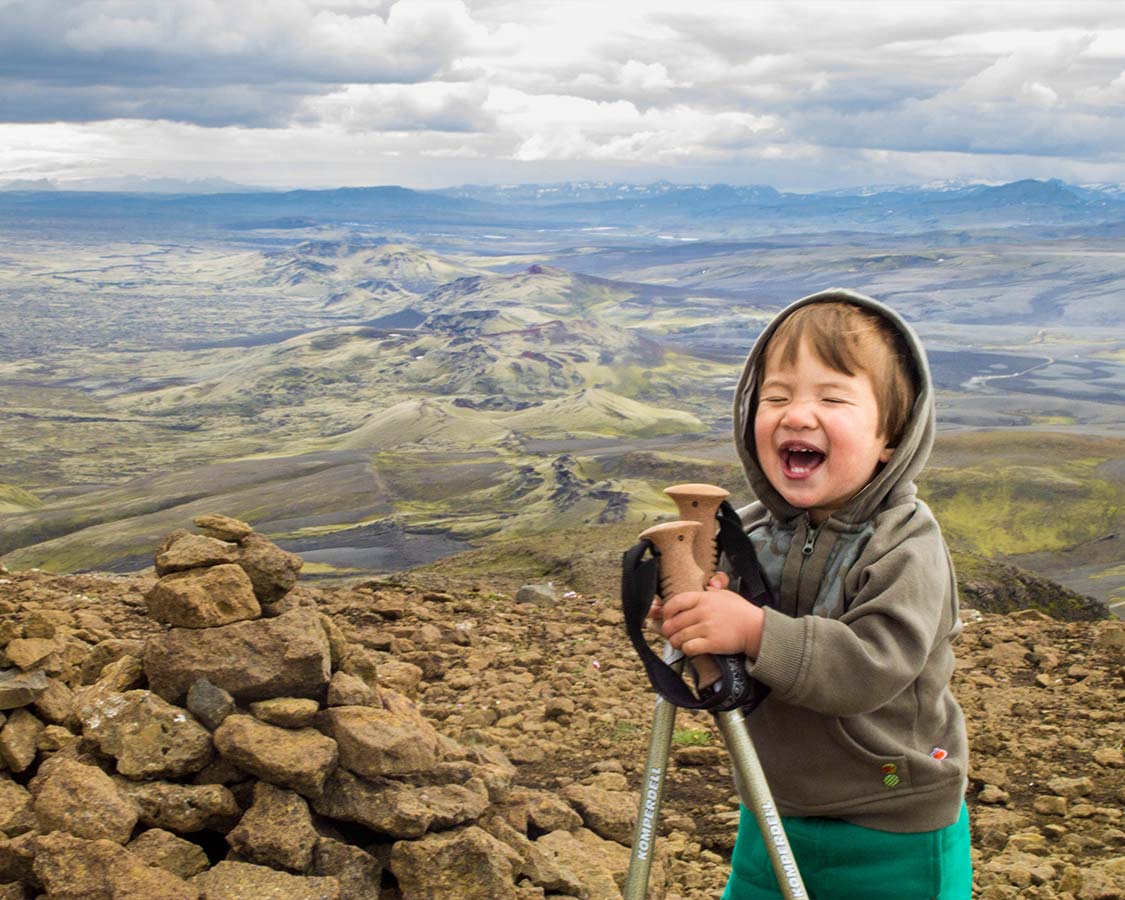 7. Explore Your Adventurous Sides with Icelandic Adventure Activities
With endless nature and epic views surrounding you, it's easy to get caught up in the madness and want to try something exciting! Luckily, many of these activities can be done with children. Well, at least children of a certain age. These are some of the most exciting activities in Iceland for kids.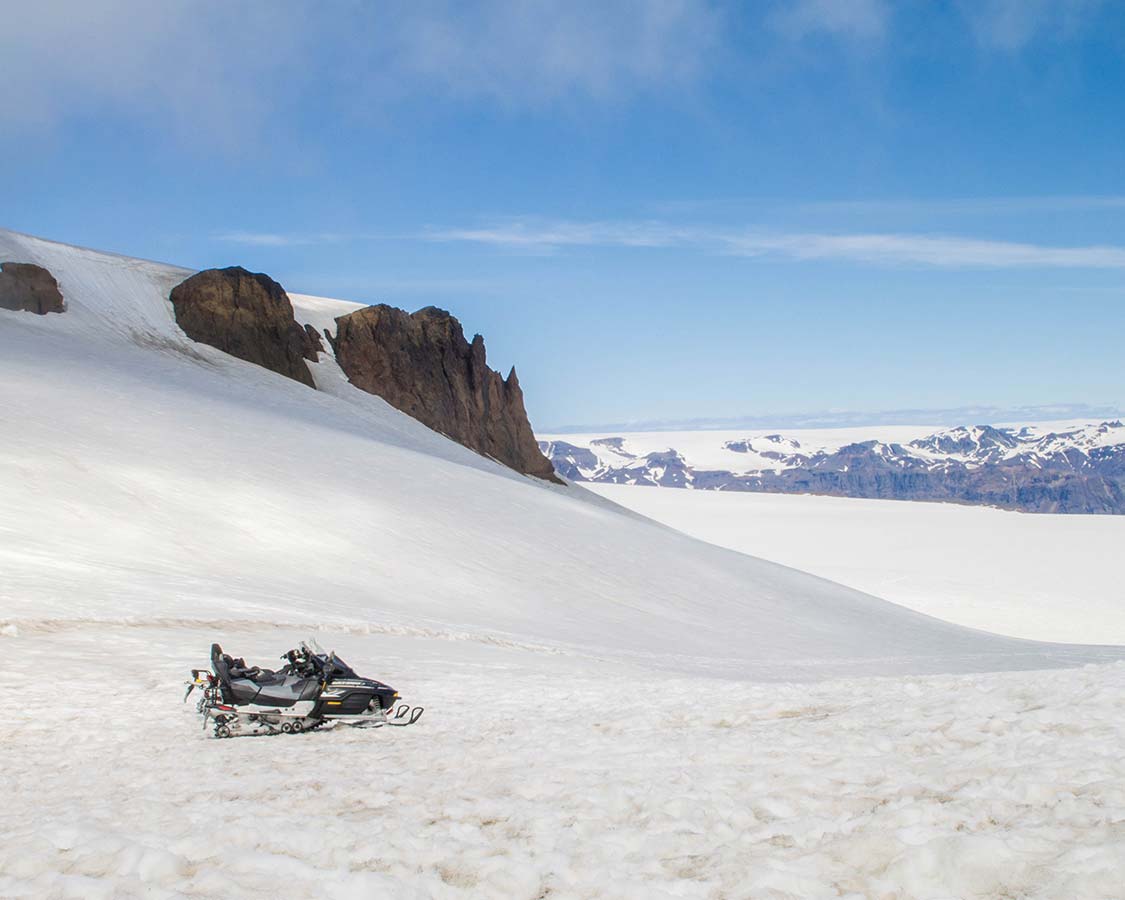 Snowmobile across Snowmobile Across Langjokull Glacier. There are few things as freeing and fun as snowmobiling across a glacier in Iceland. Although you need to be 18 to be a driver and at least 6-years old to be a passenger (When we first went, the age restrictions were a little different), snowmobiling in Iceland offers a really great way to explore on top of the amazing glaciers.
Take a Zodiac or Amphibious Vehicle tour o the Jokulsarlon Glacier Lagoon. The Jokulsarlon lagoon is one of the most surreal places in Iceland. Children in Iceland will love watching the icebergs cut off the Jökulsárlón glacier into the spectacular lagoon while playful seals swim amongst the clear blue icebergs that float around you. As a bonus, make sure to get a taste of the delicious glacier ice scooped straight out of the lagoon!
Take an off-road journey in the Icelandic Interior. Off-roading and Super Jeeps are a big deal in Iceland, and these rugged adventures are something that the whole family can enjoy. And with Icelandic safety in force, you know it will be more kid-safe than when we went on a dune buggy in Peru. Off-roading in Iceland with kids let's you get to areas you might not think of exploring with kids.
Snorke or Dive Between Continental Plates. For those a little older, a visit to Thingvellir National Park affords those with the fortitude the chance to snorkel or swim in one of the most unique locations in the world. The Silfra Fissure is the location where the continental plates are drifting apart creating a huge crack through the center of Iceland.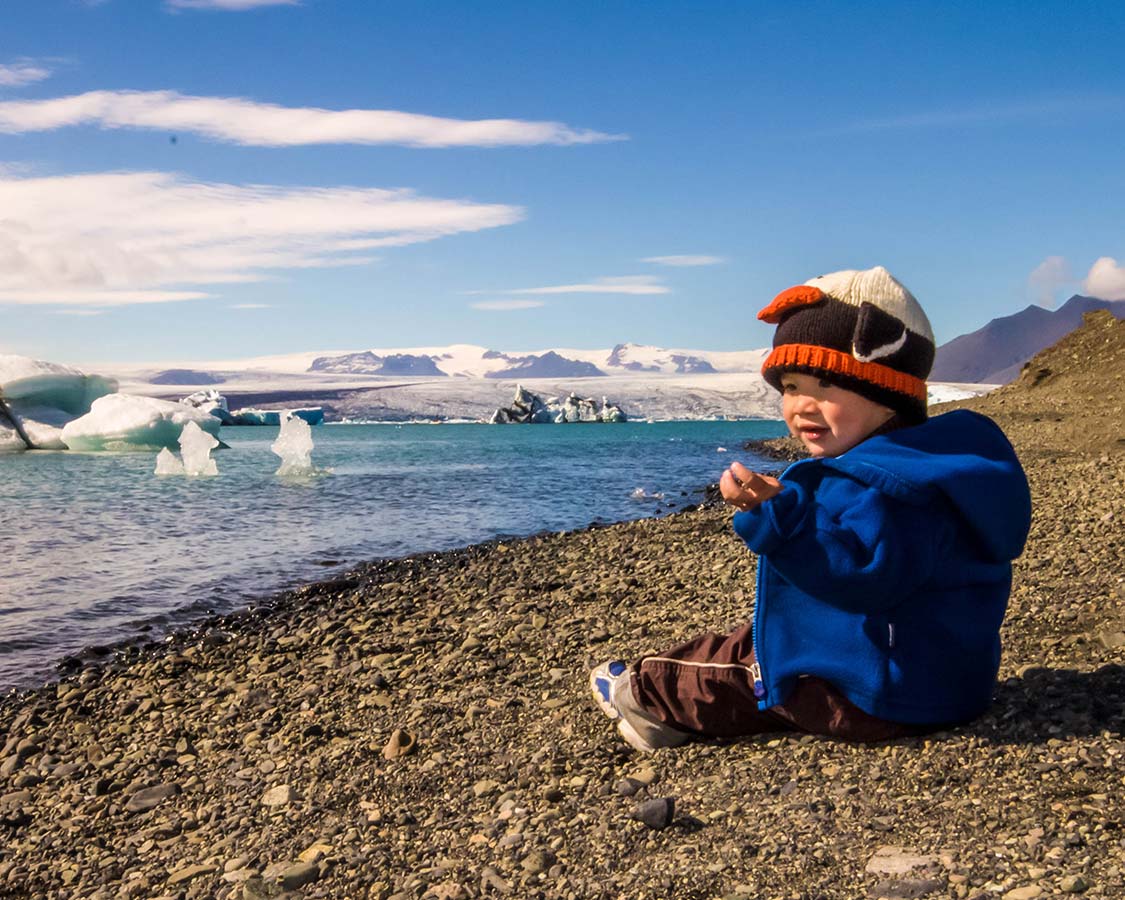 8. Taste Some Local Icelandic Food
Iceland is slowly becoming known for it's culinary expertise as much as it is for the country's natural beauty. Icelandic cooking has adapted to the limited resources available on the island and the local chefs have learned to create some truly amazing dishes.
Sure, sometimes it can be tough to get kids to try new foods, but travel is all about trying something new! Here are some of the dishes that our kids loved: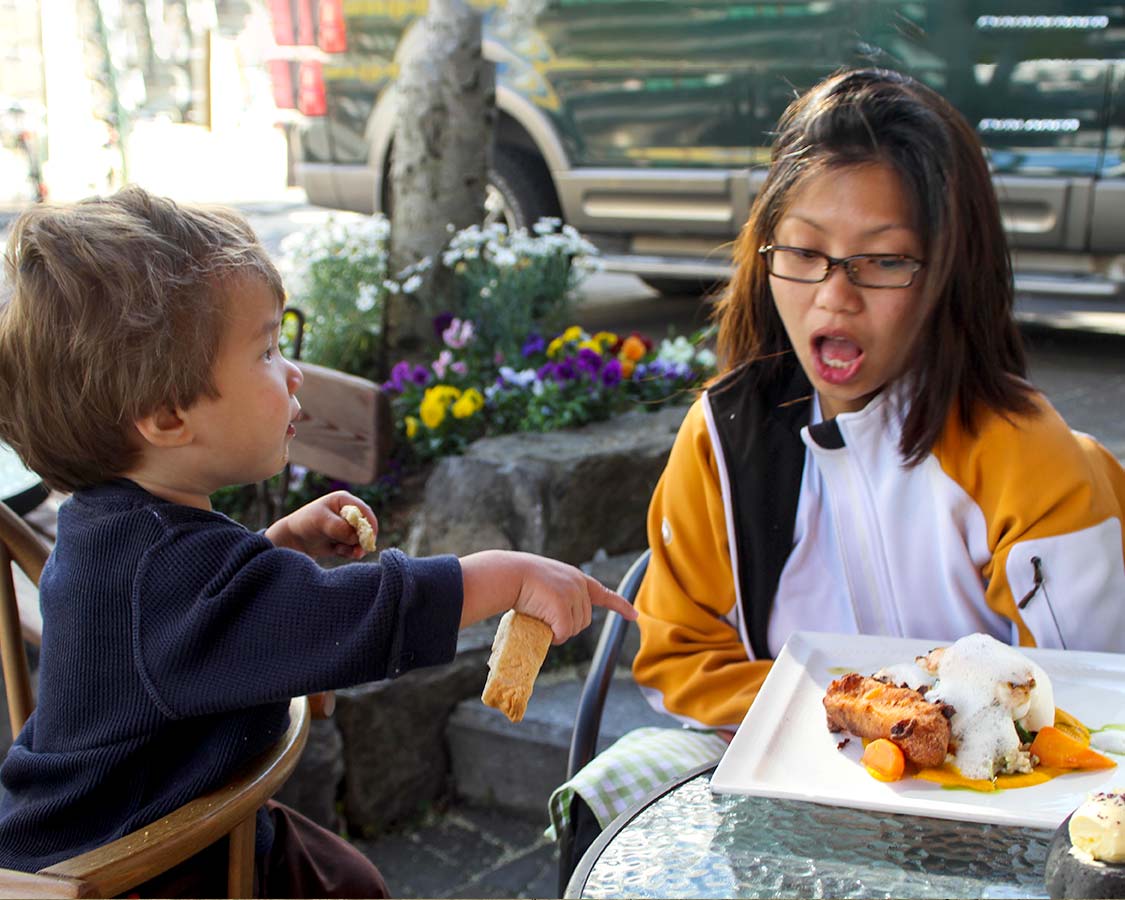 Get your kids Icelandic tasting started easy with Pylsur. Pylsur?! Your kids might say, ew, gross! But this dish has become one of the most beloved meals in Iceland. What is Pylsur? It's actually the Icelandic name for Hot Dogs! There are several great hot dog stands in Iceland, and they are ALWAYS busy. Many of these places are cash-only, so make sure you have more than credit cards
Start your day right with a bowl of Icelandic Skyr. Almost all of the locals in Iceland eat Skyr. This creamy combination that sits somewhere between yogourt and cottage cheese is a breakfast staple. Not only is it a healthy treat, but it can be mixed with fruit and jam into a delicious treat.
Hold your nose and gulp down some …fermented shark? Ok, I'll be honest with you, this is something we didn't try ourselves. But it IS a thing in Iceland. Most locals find this vile-smelling dish abhorrent, but it is steeped in tradition here as well, so there is a market for it.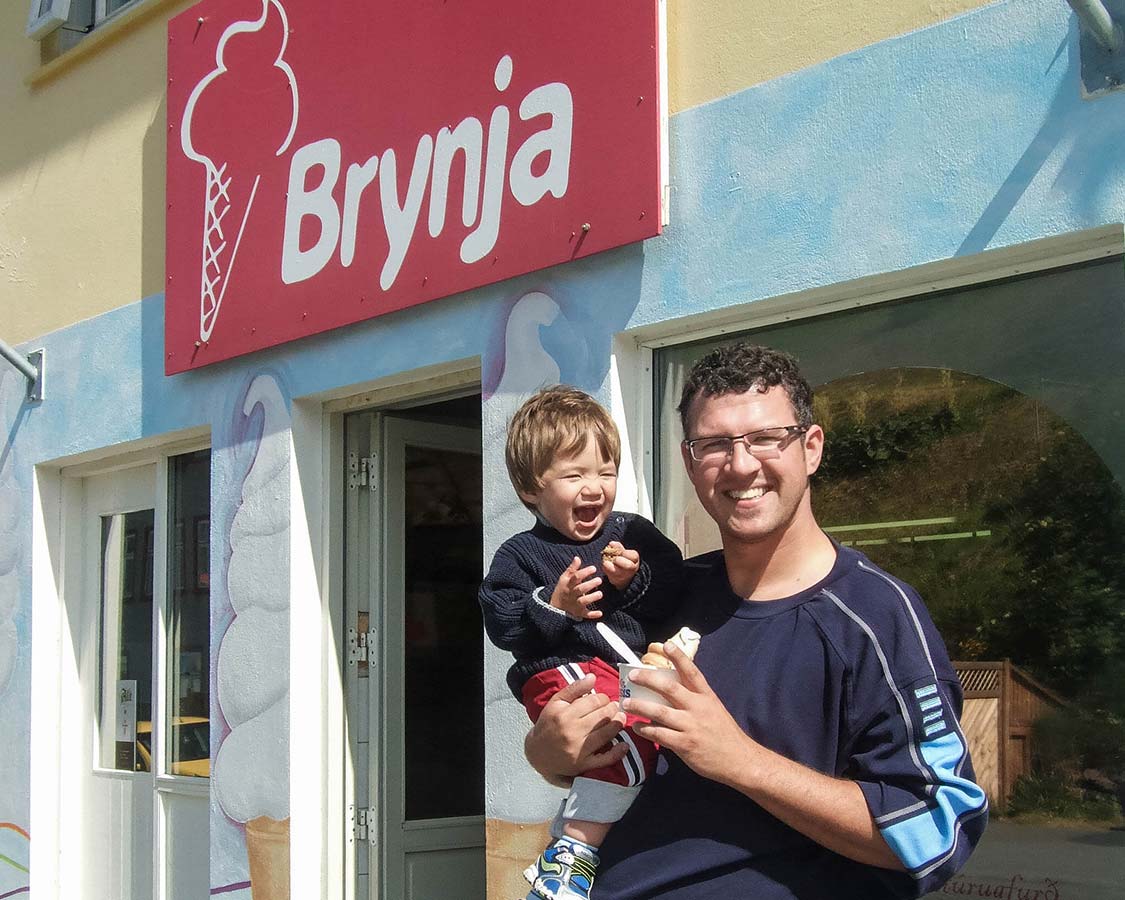 9. Experience Some of Iceland's Quirkiest Attractions
Icelandic People can come across as cold. That is until you get to know them. In actual fact, Icelanders love to have fun, and there is a unique humour in a lot of their attractions. These are some of our favorite wild and wacky attractions that are great for family travel to Iceland.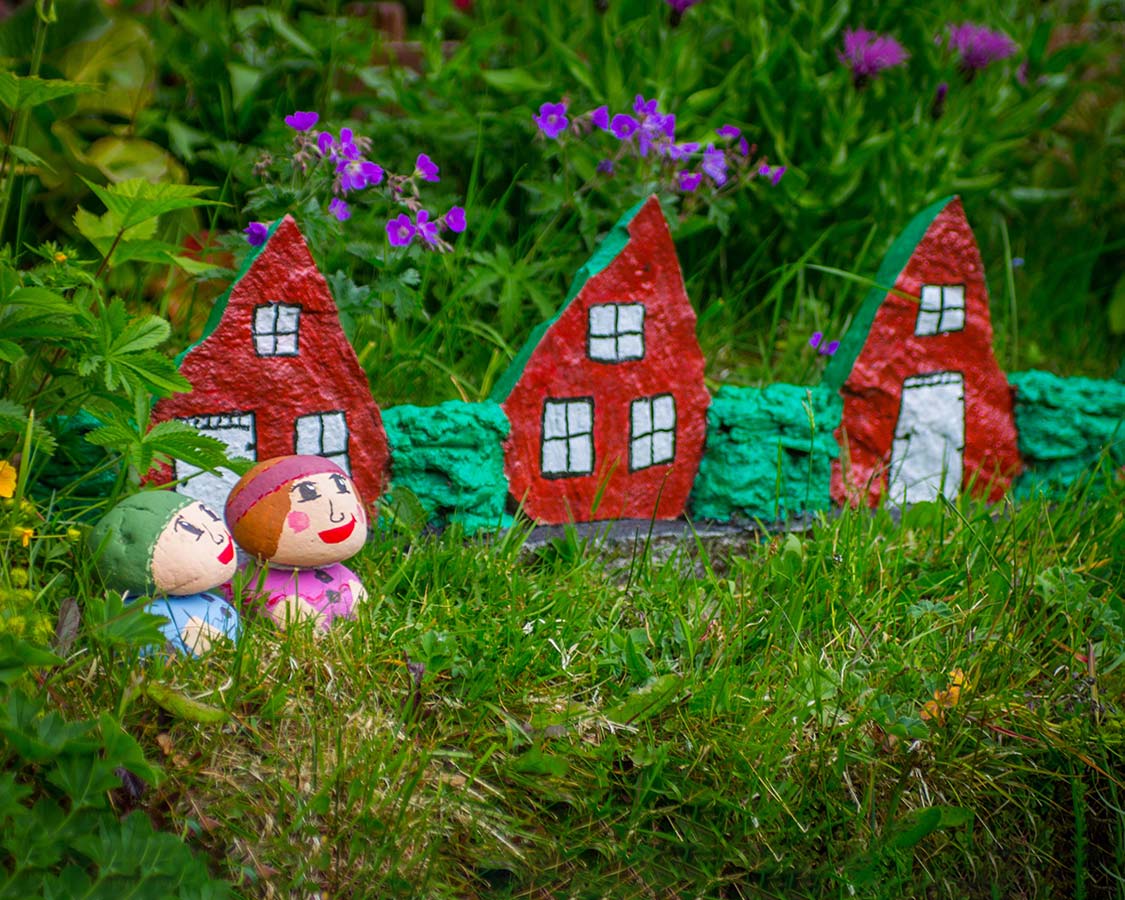 Wander Through Petra's Stone Collection in Stodvarfjordur. Petra's Stone Collection is an wild collection of rocks, minerals, and memorabilia collected by Petra María that has been referred to as a cornerstone of the nation. This collection is quirky, featuring an odd assortment of stones from throughout the country and the world. Kids will love exploring the fairy gardens, painted rocks and beautiful gardens of Petra's backyard while adults can visit the museum to learn about Iceland's 'Grand Old Lady'.
Search for Fairies in Songhellir, the 'Singing Cave'. Iceland is known for its rich mystical history. Many Icelandic people believe in fairies, trolls and other incredible creatures and Icelanders are known to have small houses in their garden for elves and the like to take shelter in. Songhellir is a cave located just off the Ring Road in an area famous for mythical sightings. The cave, known as the 'singing cave' due to wind pushing through the lava tubes is easy to climb into and the walls feature graffiti from explorers dating back hundreds of years.
Explore some of Icelands beautiful beaches. No vacation with children is complete without a visit to the beach! And the greatest thing about the beach in Iceland is that you don't need to worry about crowds. Just drive right on out, park in the sand and get ready to make sandcastles. Just make sure to bring a thermos of hot chocolate, the water can get a bit chilly!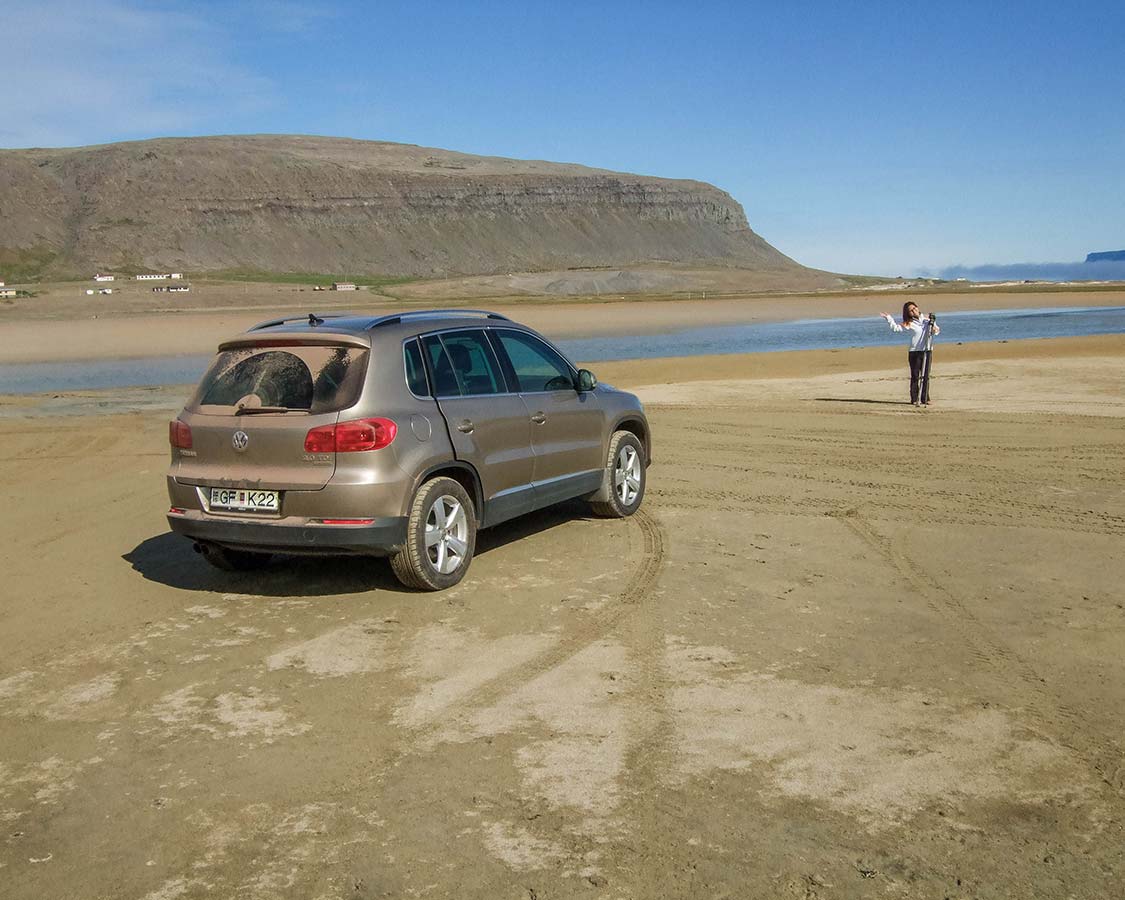 10. Rent a Car and Drive!
It's easy to spend 3 or 4 days in Reykjavik and the surrounding area. There is a lot that you can see with just a few days in Iceland. But if you really want to delve into how incredibly amazing this country is, your best bet is to rent a car and explore.
Icelandic roads are super well-maintained and traffic laws are widely supported (and enforced, so drive safe!). Taking a road trip in Iceland with kids makes for an unforgettable experience. And it's also the best way to explore the parts of Iceland that are often overlooked by visitors. Here are some of our top things you can see on a road trip in Iceland that you probably won't see on a day trip from Reykjavik.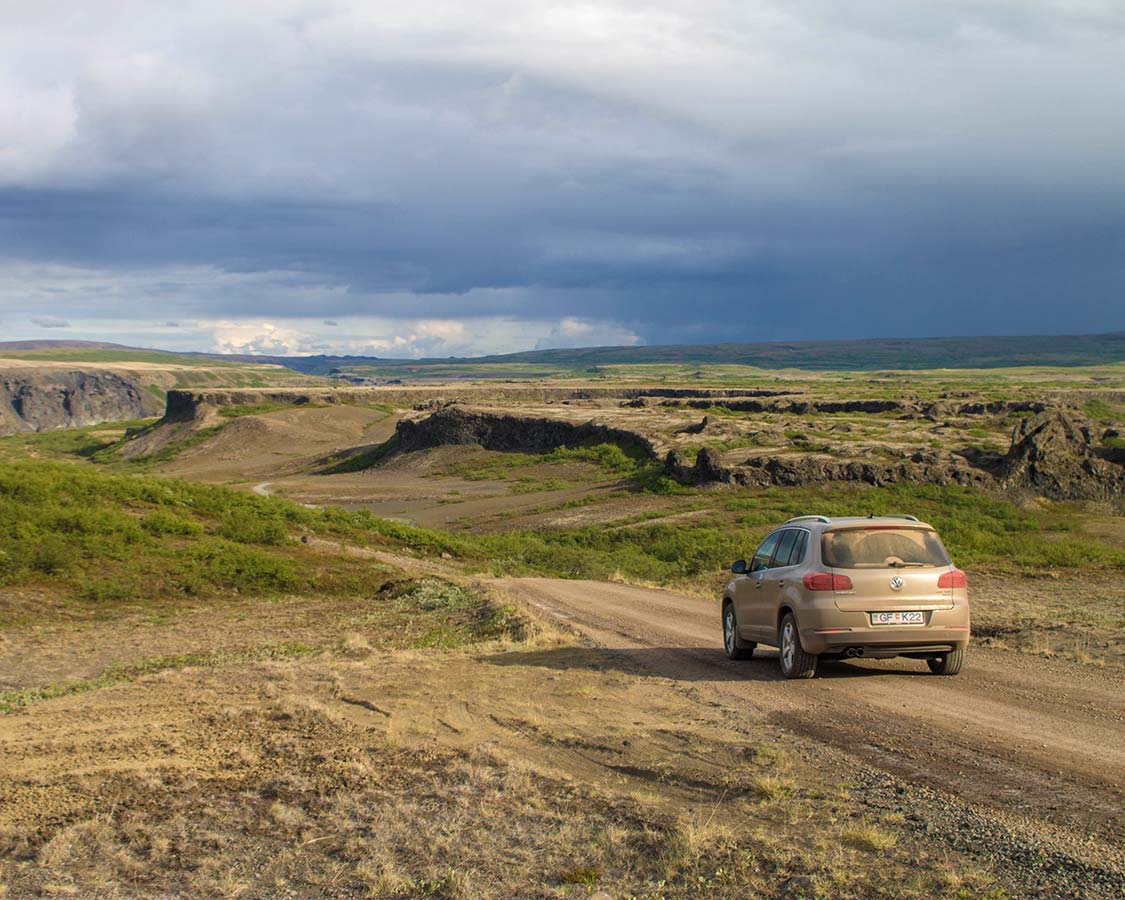 Drive through streams and rivers in the Icelandic Highlands. The Icelandic Highlands are a vast departure from the coastal areas of Iceland. For countless miles in each direction, the land is barren, rocky and wild. Kids will love the thrill of driving through small streams and rivers in your 4×4 (because if you don't have a 4×4, don't go to the Highlands!).
You'll see towering mountains and glaciers such as the Askja Caldera. Just make sure you stock up on gas and supplies before you go. There are no service stations here.
Check out some of Iceland's less famous, but no less spectacular, waterfalls. Like I mentioned earlier, Iceland is full of waterfalls. And many of them can't be seen on an organized tour. They are either too off-the-beaten-path, or just not included in organized Iceland tours. Some of the ones not to miss are Godafoss, Icelands most powerful waterfall, and the graceful Detifoss and Selfoss. Thesse last two can be reached via a short hike.
Watch where the World was Ripped Apart in Lakagigar. Our visit to Crater Row in Lakagigar was one of our most epic road trips in Iceland. It's a long drive to get there, but WOW! When you arrive it will blow your mind. There are a series of beautiful volcanic caves that are cool to explore (young children might need a hand to hold for this one).
But the best part is a hike up a small mountain (kids of all ages can do it with a little help). Here you can see where the earth was opened up like a zipper by a series of volcanic eruptions that devastated Iceland in the early 20th century.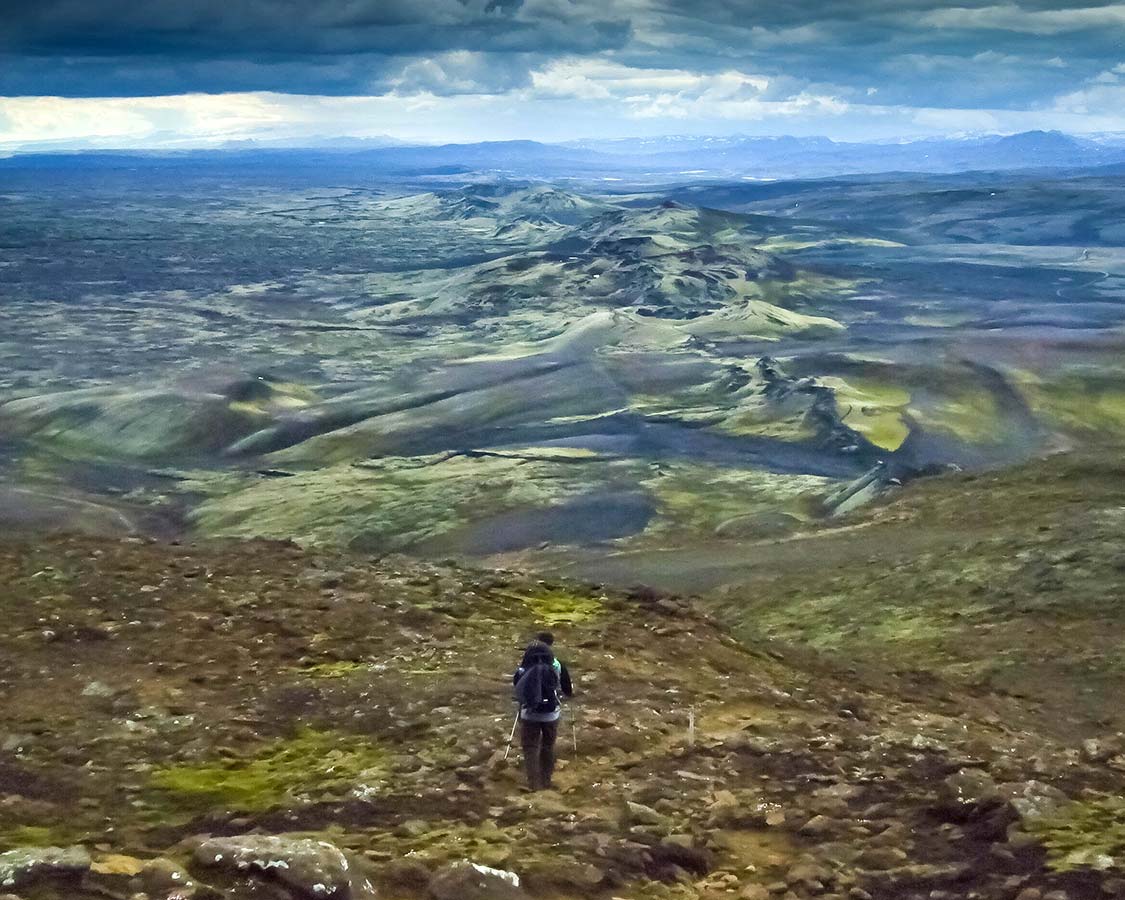 As You Can See, there is a LOT to do in Iceland For Kids!
Exploring Iceland for kids can be a fun-filled adventure for the whole family! There is plenty to discover and learn in this beautiful country. The people are warm and friendly and when traveling Iceland with kids you can be sure that your presence will be cherished! Don't be afraid to venture off-the-beaten-path and get to know this beautiful country a little better.
This post may contain compensated links. For more information please read our disclaimer. Wandering Wagars is a participant in the Amazon Services LLC Associates Program, an affiliate advertising program designed to provide a means for sites to earn advertising fees by advertising and linking to amazon.com, amazon.co.uk, amazon.ca. Amazon and the Amazon logo are trademarks of Amazon.com, Inc. or its affiliates.
You May Also Like To Read: